Capabilities
Our equipment allows us to have the following manufacturing capabilities:

* Laser guided Sewing technique (unsurpassed straight lines on every seam)

* Mig Welding for our state of the art Aluminum awnings

* Plastic Injection to repair door panels after recovering

* Flexo, Offset, and Screen Printing (outsourced but not discontinued)





Below is one of our printing presses used for making banners.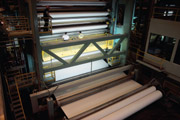 Equipment

Here is a list some of our specific pieces of equipment:

* Arpeco Letterpress

* Webtron Flexo Press

* Comco Flexo Press

YES IT'S HUGE !!!!

We update this page frequently with new equipment or additions to existing machinery.