Find what you need here at Autoberry.com and we will install it for you.
COVERCATZ ..... A TRUSTED SHIELD
HEADLINES:

MARCH MADDNESS
March,01 2014:
Covercatz now offers Plasti-Dip
Now offering Bug Guard Plasti-Dip for your car or truck. Say "NO" to bugs .... when the lovebug season is over, just peel it off!
Covercatz wins again ! Read below
THE CONVERTIBLE TOPS SPECIALISTS
20 years experience installing tops of your
choice! We are preferred installers for:
GAHH and all German made tops
Audi, Saab, Bentley, BMW, Jaguar, Rolls Royce, Mercedes Benz, Austin Healey, Cooper Mini,
1A auto tops, ACME Tops, Auto tops Direct, Tops4yourwheels
All american made auto tops and so much more.
At last !!! As of May 25th 2013 Hard work pays off!!!! Jim Morgan Took first place for best interior. With a ONE - OFF concept interior done for his 1964 Ford Ranchero. We had the opportunity to be artistic and creative for this beauty. "Big Al" was embedded as an abstract feature in this truck/car doors using two pieces of poplar wood for the tusks/armrests. Interested?? goto our Facebook page -----> just click the picture above.
Feeling topless?
Don't worry COVERCATZ does
top replacements too for over
twenty years of foriegn and domestics.
Why pay more? We'll help you get
the best price on your top by
searching four different convertible
top companies. Then show you the
man-hours it takes to install it!
Completely transparent pricing
with no hidden fees!
Click below to go to the new
site and see the galleries.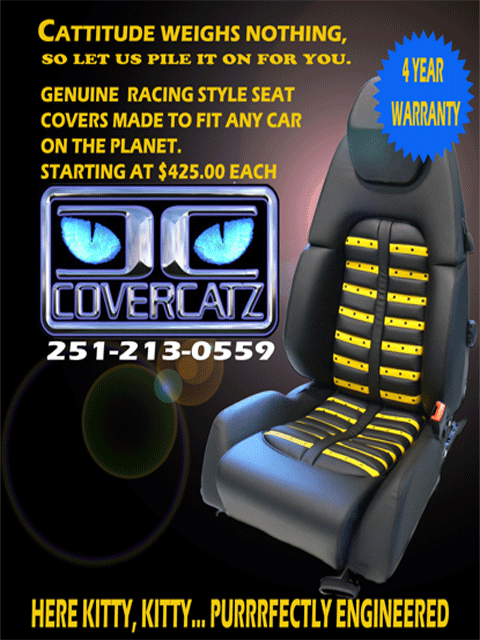 What Services we provide: Domestic Foriegn
Competition and showcar concept design interiors custom stitching and fabrication
Seat skins (not covers! ) not affiliated with Katzkin but we'll gladly put thier skinz in your car, along with Leatherseats.coms products.
Seriously folks we'd rather fabricate a design with materials you pick out, Made by:COVERCATZ exclusive.
Convertible Tops from Robbins, Auto Tops Direct, GAHH, Haartz, Sierra, Tops Down and many more for (ALL) cars! most with 5 year manufacture's warranty
Rear window replacements (rare cases)

Scissor assembly repair and replacement (warning, these type tops are tempermental) more mental than anything else!

Hydraulic and convertible motor servicing

Replacement of gaskets/weather strips
Adjustments

Trouble Shooting and Diagnostics and resynchronising Rear deck assemblys

Insurance and warranty Claims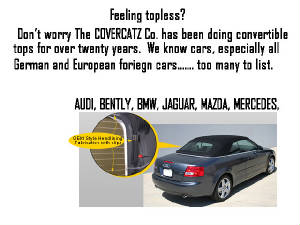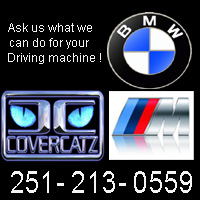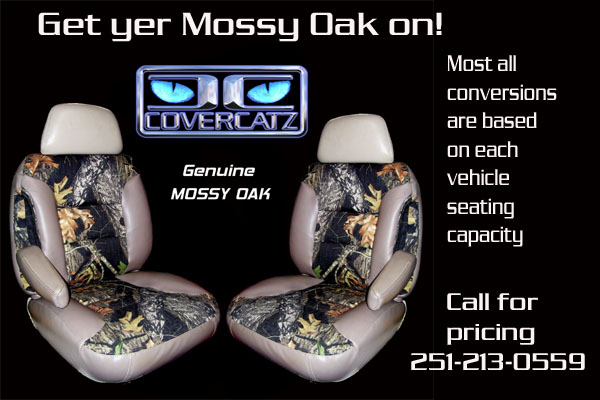 NOTICE: MOSSY OAK is a trademarked product and they will only allow us to buy 40 yards to be purchased before we at COVERCATZ will have to buy a perpetual license in order to continue to give you great designs with the MOSSY OAK approved logo. So get it while we can offer the low prices!!
Click this link above to find the right molded carpet for your make and model.
Since ACC has selected us as a preferred installer, we will install it for
$75.00 USE AD PROMO CODE: CATZ22
CLICK HERE TO JUMP TO THE NEW SITE